Ruth E. Carter Shows UMass an Afrofuturist Fashion Show
Embracing Black history and reimagining the future is at the core of every costume in Wakanda.
Oscar-winning "Black Panther" costume designer Ruth E. Carter brought Afrofuturism from movie screens to UMass Amherst on Feb. 17 with her Black Heritage Month keynote speech about the powerful activism behind visualizing Black heritage in a technological context.
"We took tradition and examined it in a big way by looking at details and working with the costume designers and fuse it in technology to create Afrofuturism," Carter said.
Before Carter even appears on stage, a reel of her work filled with movie clips, virtual designs, and fashion sketches introduces her to the audience. Carter designed the costumes for "Malcolm X," Selma" and "What's Love Got to Do with It." She's worked with acclaimed directors like Steven Speilberg, Lee Daniels and Spike Lee and legendary actors Eddie Murphy, Jane Fonda and Denzel Washington. She is the first African American to win the Oscar for Best Costume Design.
Carter starts by acknowledging this "full circle moment": originally from Springfield, Carter participated in UMass's Upward Bound, a program that provides tutoring, SAT classes and career advising to low-income students Springfield's High School of Commerce. 
"This is somebody who cares about her roots. [She] is very generous in coming here and giving back and down to earth enough to be responsive to a request from a public institution," Associate Dean of Student Recruitment, Inclusion, and Success at the Commonwealth Honors College Ann Marie Russell said.
An actor turned costume-designer, Carter didn't look to Christian Dior or Coco Channel for artistic inspiration, but rather Black activists and artists like James Baldwin, Langston Hughes and Lorriane Hansberry. These icons made history by reimagining Black culture in their time, which Carter did with jazz in "Mo' Better Blues" and continues to examine culture in "Coming to America 2" by modernizing the African nation of Zamunda from 1988.
"These experiences have shaped my view of what I present to you as part of our culture," Carter said.
Spike Lee gave Carter her start in his film "School Daze" and continued to collaborate with Carter for 14 films. Carter credits Lee for instilling authenticity and uniqueness in her work over Hollywood mediocrity. Her first Afrofuturist film was Lee's "Do the Right Thing," where Carter combined Nike athleisure with African prints. 
"I think in terms of how she relates to Black history or heritage, she actually has done a lot to bring it alive for us. She worked on films like "Malcolm X" and "Amistad" and "Roots," Russell said. "Films that capture Black past and just make it more alive, more vivid, more realistic."
Carter's creative process relies heavily on researching historic events, cultural movements and people's lives. In preparation for "Malcolm X," Carter not only read Malcolm's journals and autobiography, but visited the prisons that held him. For "Black Panther," she traveled around Africa and used various patterns and colors from tribes across the continent.
"When [I] see costume design, I didn't really understand how much she really goes into the history and takes these actual tribes and turns them into art," sophomore and finance major Catie Corrigan said. "How she went through each individual costume and [explained] where she got the exact inspiration for it."
Each of the five tribes in the fictional kingdom of Wakanda are based on a specific African tribe's traditional garments. The Border Tribe used blankets from the Basotho tribe in Lesotho. Carter ordered 150 blankets from South Africa and shaved them by hand after Marvel executives complained about the thickness. The Merchant Tribe mirrors the Tuareg people in Saharan and Swahilian regions and the Mining tribe took inspiration from the Himba and Maasai peoples in East Africa.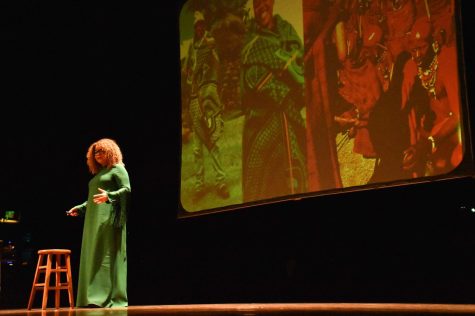 Carter showed sketches of the inspiration for each outfit and the final product, noting the major similarities between traditional garments and the modernized costumes, the essence of Afrofuturism.
Carter empowered characters through Afrofuturistic designs. The Black Panther suit includes triangles around the neck, the sacred geometry of Africa that represents the father, mother and child. The female warriors in the Dora Milaje wear form-fitting but modest outfits with beading from the Maasai tribe instead of the sexualized costumes women often dorn in superhero movies.
"We did not want to put them in short skirts and bikini tops. We wanted them to be taken seriously," said Carter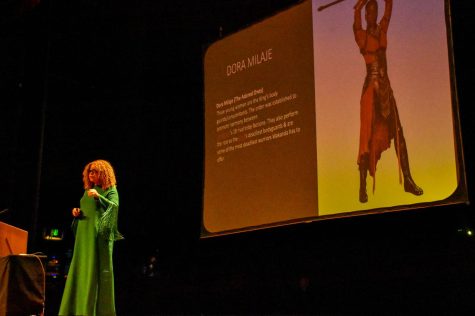 Carter sees Afrofuturism everywhere she looks. When Spike Lees creates authentic reflections of Black History on modern screens, that's Afrofuturism. When the director of "Selma," Ava DuVernay, turned away from journalism and public relations to become a filmmaker, that's Afrofuturism. When immigrants come to the United States bringing foods and clothes from their native culture, that's Afrofuturism. 
"We wanted to go in a creative direction for Black Heritage Month in general because typically as students, as academics we're all reading and writing," Russell said. "So we wanted to go in a direction of doing something more artistic and creative and exploring creativity as a form of self-expression and activism. And we feel like [Carter] embodies that better than almost anybody else."