Are the '90s still 'All That'?
Nineties nostalgia has crept its way back into the hearts of millennials.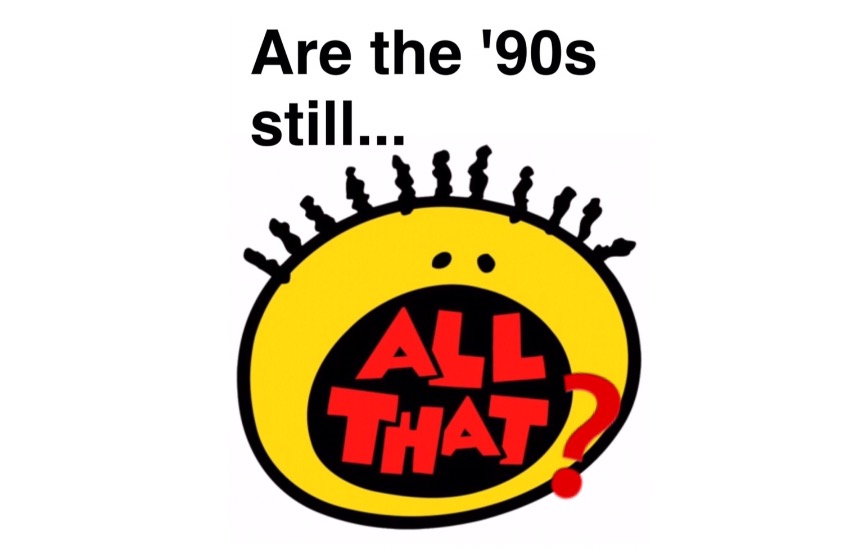 AMHERST — On my way into the dining commons, I could not help but stare at a random person across the way. All I could notice was the T-shirt he was wearing. In big, vibrant colors, the logo for the beloved 1990s series "All That" was printed across the front of the shirt.
It was funny to me, considering "All That" has been off the air for over a decade. It is hard to even find re-run slots on TV. I found it fascinating that a show from the 1990s has maintained a legacy and loyal fan base so strong that the logo would appear on a T-shirt in this decade.
The '90s were a decade of iconic TV shows, teen comedies, evolving music and unforgettable fashion moments. While the 2000s became a decade of its own pop culture and fashion statements, I could not help but realize how '90s nostalgia has crept its way back into the hearts of millennials in the 2010s. From television show reboots to returning fashion trends, I have one question: Are the '90s still "All That?"
Netflix is a cheap and affordable way of accessing new and old television shows through online streaming. In recent years, Netflix has assisted in bringing '90s nostalgia to the center of mainstream attention. Netflix rebooted beloved TV shows such as "Full House" and "Gilmore Girls," as well as popular '90's films. 
According to Business Insider, as of June 2016, "Friends" was the seventh highest streamed show on Netflix. For a show that has been off the air for over a decade, this is an incredible feat. In addition, the show also takes a spot in the "Trending Now" list, alongside '90s contemporaries such as "Clueless" and "Jurassic Park."
Outside of Netflix, other '90s television shows have made their way back into the mainstream media. "Twin Peaks," a cult sci-fi classic, was renewed for an 18-episode return after the series was cancelled in 1992. Shows like "Girl Meets World," "Scream," "Duck Tales," "Cruel Intentions," "MTV Unplugged," "X-Files," "Powerpuff Girls," and "Roseanne" have either been released, put into production, or pitched to producers. In addition, movie reboots such as "Jurassic World," "Hey Arnold!," "It," "The Crow," "The Craft," "I Know What You Did Last Summer," and "Jumanji" have been put into production. As you can see, the return of the '90s is happening right before our very eyes.
In addition to invading the big screen, '90s culture has made its way into the current music scene.
Two years ago, Vogue magazine published an article titled, "Don't Call It a Comeback: It's Officially the Summer of '90s Music." 
"News to no one: we've been having a nineties moment for a while now. First we rediscovered flannels, then mom jeans, then Birkenstocks, now overalls. But it is fair to say that this year may be the tipping point," author Julia Felsenthal writes.
The article mentions tours by bands such as Third Eye Blind, Dashboard Confessional, Nelly, Smashing Pumpkins, New Kids On the Block and Barenaked Ladies.
In 2017, TLC released a fifth and final studio album, since the death of bandmate Lisa "Left Eye" Lopes in 2002. The project was funded through an online Kickstarter campaign, where 4,200 fans pledged $430 million to bring the album to life. 
In some cases, even '90s artists are coming to life.
In 2012, audiences at Coachella were stunned when a life-like hologram of the late rapper Tupac Shakur emerged on the stage. The hologram performed alongside Snoop Dogg and Dr. Dre, other rappers who peaked in the '90s. Two years later, a hologram of the late Michael Jackson made its debut at the 2014 Billboard Music Awards. A year later, the family of late Tejano singer Selena Quintanilla began a Kickstarter campaign to fund a hologram tour in her honor. From posthumous albums to holograms, the singers of the '90s are so beloved that we could not go another year without feeling their presence on stage.
While it may be hard to spot, '90s fashion has found its way to red carpets and fashion magazines. Popular retail outlets such as Urban Outfitters and Zumiez have included '90s-inspired clothing in catalogs. For example, Urban Outfitters has clothing lines dedicated to Tupac, Biggie Smalls, Aaliyah, Nirvana, Soundgarden, Sublime and Red Hot Chili Peppers. In addition, the store markets "vintage" and "grunge" clothing that is heavily inspired by '90s fashion styles such as overalls, skirts, chokers and sweaters.
Famous '90s fashion moments such as denim jeans, sheer clothing, overalls, plaid accents, leather jackets, floral prints and flannel shirts have also made a return to the American market.
There is no telling how long '90s culture will remain popular. While the trend is in, find your VCR of "Good Burger," dig through your old CD collection, and find solace in the fact that Amanda Bynes is returning to acting. But try not to wear your fanny pack.
Email Michael at [email protected]