Add flair to your fall wardrobe
Many college students begin their day with the same questions: Why waste time in front of the mirror when you're already late? Why go through your entire closet when you will ultimately end up at the gym? 
I'll answer these questions with another one: Why the heck not?
Who knows what your day will bring? You could meet your long-term crush or perhaps a brand new one. You could run into a professor or a potential employer.  If not for someone else, why not look great for yourself? Who cares if people think you're trying too hard. What matters is that you are confident in what you are wearing.
Try your best: You and your wardrobe deserve it! Here are a few alternatives to spice up three classic fall campus looks.
UMass gear
Showing school spirit in your wardrobe is totally cool. A UMass hoodie and jeans is many students' go-to outfit (even if you're just sporting your only hoodie, as in my case). However, you'll inevitably be twinning with a lot of people. A quick solution is layering.
You might don your favorite statement jacket. Or you could add flair to a simple hoodie or a jumper with a colorful, patterned shirt. 
Another option is wearing a slip dress, maxi dress or anything with a light fabric underneath your favorite UMass sweater or pullover. For extra pizzazz, throw on a turtleneck under the dress. Just make sure you layer with complimentary colors.
A black turtleneck is essential and can easily be dressed up or down by mix-and-match layering. It is an easy, cost-effective upgrade for your heavily used hoodies and jumpers. 
Wearing an over-sized sweater off-the-shoulder is a great look as well.
The gym rat
The great college dilemma: Do you dress up, or do you wear gym clothes to class? Many students choose the latter to avoid carrying a change of clothes.

Athleisure — dressing up athletic wear — doesn't have to break the bank. You don't need to wear expensive athletic brands like Y-3, Lululemon or A.P.C. to make a statement. In fact, you can transform your athletic look with clothes you already own. 

Try pairing leggings with a simple blouse or something business casual. Throw your runners in your backpack and wear some pumps instead. This will give you a more sophisticated, modern and versatile aesthetic.
If you're feeling trendy, swap out the leggings for some pedal pushers.  
Flannel fever

There is nothing New Englanders love more than flannel.  Don't get me wrong, I love flannel. It is a quintessential North American look. Here are some tips to stand out from the flannel crowd. 
Try giving new life to a used flannel. Ask anyone with a larger build than you for a flannel they don't wear anymore. It could be your dad, brother, boyfriend, girlfriend, uncle, grandfather, etc. Make sure it is about three or more sizes too big and wear it as a dress.

You could alter it to be more fitting around the waist. Or you could just wrap a statement belt around your waist.
For another look, wear a large, unbuttoned flannel over a sleeveless top with skinny jeans or trousers.
These are just a few tips. Remember, all that really matters is that you have fun and get excited about your newly polished outfit.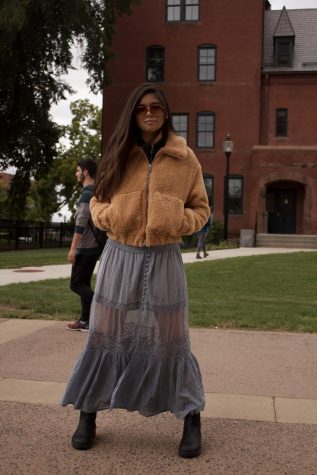 Email Matthew at [email protected]