Four spots to escape the tourist traps of Venice Beach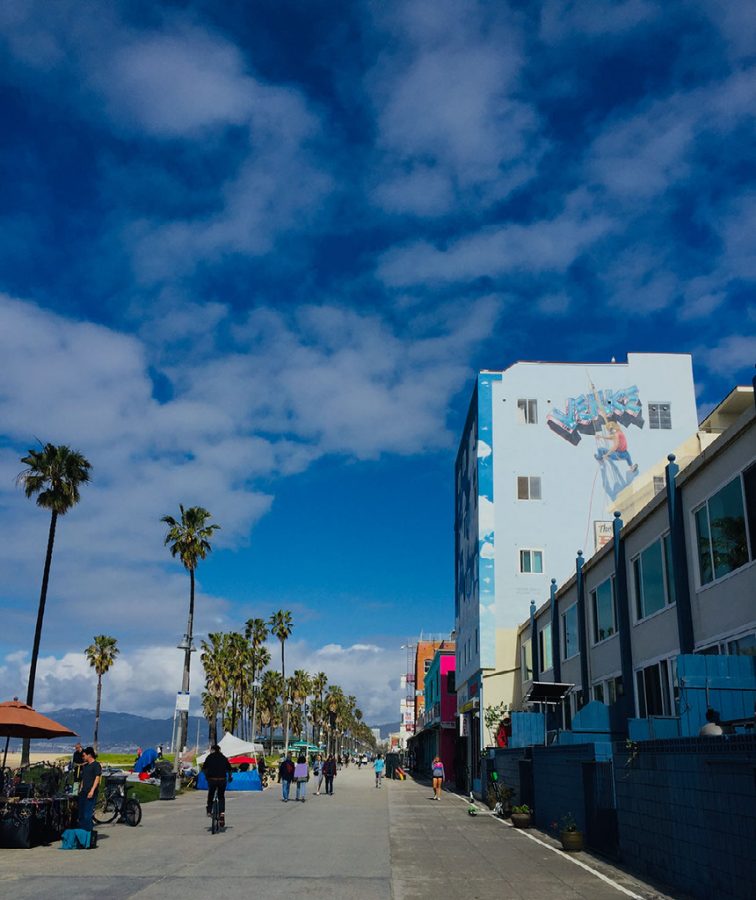 Sammy Croteau, Contributor
November 5, 2019
Street performers wobble on sky-high stilts, shady fortune-tellers covered in glitter lure you to their booths and homeless artists desperately wave their oil paintings at the chaotic Venice Beach oceanfront in southern California.
Located 14 miles west of downtown Los Angeles the two-mile-long boardwalk has bustled with street performers and crowds of visitors from around the globe since it was founded in 1905.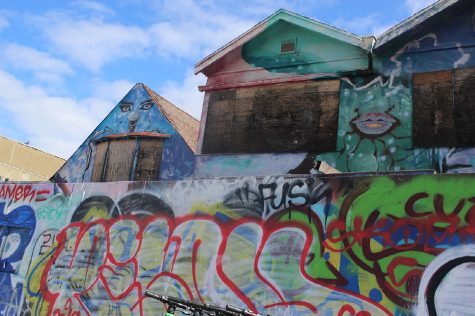 Locals avoid this tourist trap at all costs through an unspoken pact that deems the hectic area as grimy and tourist infested. But just a few blocks inland from the teeming boardwalk is the Venice that locals love. To take a step back from the boardwalk's dilapidated smoke shops, scribbly graffiti and vulgar T-shirt shops, here are four alternative destinations both locals and visitors can enjoy in Venice.
The Venice Canals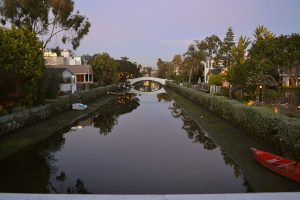 This hidden gem doesn't require a giant gondola or plane ticket to Europe, but the Venice Canals slightly resemble the streets of the famous Italian city. Only a 3-minute walk from the beachfront frenzy, the canals are located off of 25th street, along Dell Avenue with public parking available. The canals take up four blocks, each stream stretching about a quarter-mile long.
The tobacco millionaire Abbot Kinney built the canals when he founded the residential area in 1905.  He dug out channels to drain the marshes, bringing a taste of Venice, Italy to America. 
Capturing the peaceful side of the Los Angeles community, the canals set serene scenes of reflective palm trees, arching pedestrian bridges, and quirky beach houses lining the tranquil water. At one time, these homes were under $1 million, but now they can sell for upwards of $5 million. Former and current residents of this area include movie stars Julia Roberts, Kate Beckinsale and Nicolas Cage. 
Clusters of ducklings and swans quietly float by as you stroll along the stone sidewalks. If you wish to let the water carry you along, hop on a paddleboard or non-motorized boat to cruise through the neighborhood, taking in every ounce of Venice's hush hush hideaway.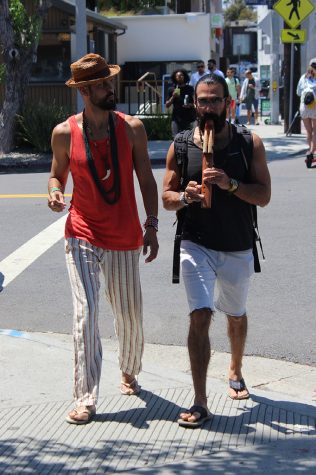 Within walking distance of the beach, this stylish street buzzes with boutiques displaying ornate jewelry, one-of-a-kind vintage pieces and funky gifts. Art galleries and hipster eateries also inject life into this historical shopping block. The stretch of little shops and modern restaurants combines Los Angeles luxe with the established hippie Venice Beach lifestyle. 
The shoppers range from bleach blonde skaters, and surfers to edgy millennials hiding behind oversized sunglasses. People watching is an activity in itself on Abbot Kinney. Each establishment brings something rare to the diverse shopping hub, with something fun for everyone. Head to Ananda, a bright orange boutique specializing in women's clothing, authentic crystals, handmade jewelry and vintage art that captures the true bohemian essence of Venice.
MedMen stands as the 'Apple Store' of all weed stores in Los Angeles and offers visitors a glimpse into the future of recreational marijuana commerce. Painted boldly in red with a clean sleek interior, and a consistent line flowing from its doors, MedMen is conveniently located in the center of Abbot Kinney. Venice locals crowd this spot, making it the top weed provider in the area. Make sure you have your ID handy at the door; you must be 21+ to enter.
Once inside, shoppers can wander the maze of glass-encased marijuana nuggets spread throughout the store. In the cases, each strand is distinctly labeled with a name and description of the marijuana's physical and psychological effects, so you can choose the best-suited products. A friendly and educated staff guide your experience, ensuring that you leave satisfied. MedMen offers endless marijuana products including, edibles in forms of gummy bears, chocolate, and cookies, and pre-rolled joints starting at just $10.
Another escape from the tourist emporium of the Venice boardwalk is the farmers market, which runs every Friday morning from 7-11 a.m. at 500 Venice Blvd. Where locals flock to find extensive varieties of fruits and vegetables, the open-air market is the perfect morning activity to kick off your weekend. Venice vendors and growers sell homemade honey, freshly baked bagels and sweet-smelling floral bouquets. 
The market's welcoming energy establishes a sense of community with steady smiles and helpful hands throughout. With an endless selection of ripe produce, the market's layout remains small and easy to navigate for a quick visit. Make sure to stop at the Coffee Truck, a popular suggestion among locals that serves a delicious morning wake me up.
Visiting Venice gives you a taste of a crazy city filled with artistic hippies, graffiti-covered alleyways, and dozens of shops filled with funky knick-knacks. Set apart from the hum-drum regality of Hollywood and Downtown Los Angeles, experiencing Venice is a travel tale like no other.