How did we get Joji from Filthy Frank?
The Japanese artist is making waves with his sophomore album "Nectar," the only question is: how did we get here?
Japanese alternative artist George Miller, known by his stage name Joji, released his second studio album, "Nectar," on Sept. 25. The album has amassed over 500 million streams on Spotify, with 18 tracks of lush instrumentals, airy vocals and stripped back beats culminating into a dramatic exploration of love and longing.
Lax, graceful and, more importantly, widely appealing, it's a far cry from the album he'd put out just three years prior, under the alias Pink Guy. That LP, titled "Pink Season," is a satirical comedy album. It was essentially an 81-minute word vomit of everything offensive you could mention: animal abuse, mass murder, racist and homophobic slurs. In fact, two of its tracks, titled "White is Right" and "Dog Festival Directions" were removed from streaming services soon after the album's release for 'unspecified reasons,' according to a deleted account on Reddit. Yet, due to his massive following on his YouTube channel, the album peaked at number 70 on the Billboard Top 200.
That YouTube channel, Filthy Frank, featured the main character, Frank, played by Miller in glasses and a blue button-up. His channel self-described him as "embodiment of everything a person should not be." It included a recurring cast of characters, including Pink Guy, with the same crass and offensive humor you'd come across on "Pink Season." By the time Miller quit comedy, he had gained around seven million followers and was getting tens of millions of views on each video.
Joji, the laid back alternative artist, has always been there lingering in the background. The artist's first EP "Chloe Burbank" was released to a niche amount of praise by the fans willing to give it a listen on SoundCloud, at the height of Filthy Frank's popularity. Although getting generally positive reviews from the EP, it was nowhere near the popularity of anything in the realm of Pink Guy or Filthy Frank. So, why quit?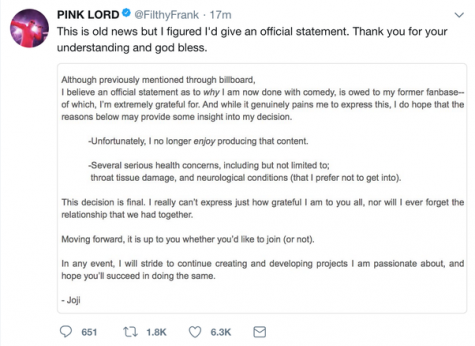 The answer to that question isn't as complex as some may think. In a now-deleted tweet on Filthy Frank's Twitter account long after consistent content had been uploaded, he explained the reasons he was ending the Filthy Frank world he'd become known for. According to Miller, along with the lack of enjoyment he received from producing the content, the rough, low voice he'd used for the character of Frank had actually caused throat tissue damage, and pre-existing neurological conditions made it difficult to continue the content.
With more time to focus on the more 'serious' music, Miller, or Joji as he's more commonly known, began releasing his work to a wider audience. His fanbase gave him a decent start, but when the song "SLOW DANCING IN THE DARK" peaked at number 39 on the Billboard R&B charts and 69 on the Billboard Hot 100 which is just one position higher than Pink Season had ever been was clear to fans that Miller's more 'serious' career as Joji was going to be just as, perhaps even more, successful than his prior endeavors. "Nectar" was released to widespread praise, earning the number one spot on the Spotify Weekly Albums Chart and the number three spot on the Billboard 200, and if the numbers are any evidence, neither Joji nor his listeners are slowing down any time soon.
Email Isabel at [email protected] or follow her on Twitter @fibiotibula