Fall Fashion–but make it thrifted
Look for these 3 staples to spice up your wardrobe this fall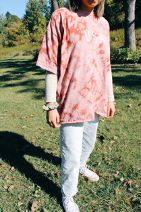 In recent years, thrifting has taken the fashion world by storm. With "vintage" being on-trend, the lure of affordable prices, and the thrill of finding a cool piece, thrifting has become a fun (and practical) way to find unique items to add to your wardrobe. But, the thrift store can definitely be a hit or a miss. Sometimes you leave with handfuls of clothing, and other times you leave with nothing. It can also be overwhelming and uninspiring walking into a sea of metal racks stuffed with clothes. I've been thrifting for over four years now, and these are some of my favorite staples to look for fall.
Button-down shirts. 
Button-down shirts are great versatile pieces for fall. They can be worn on their own, or layered for that in-between fall weather we experience in New England. I like to look in the men's section for dress shirts and button-downs for an oversized fit. Try a men's dress shirt tied up for a night out, or a cotton button-down paired with mom jeans for a coffee date.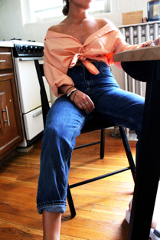 T-shirts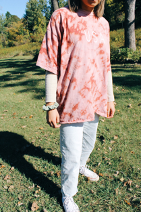 I know that short sleeves probably don't come to mind when you think of colder weather, but hear me out. A really cute look is layering a t-shirt over a long sleeve. Plus, it's an easy transition from summer to fall. Thrift stores have TONS of t-shirts, and to personalize them even more, grab a bottle of bleach and dye them! Bleach-dyeing is on trend right now and there are tons of YouTube videos that give step-by-step instructions on how to do so. Pair your tee with a pair of girlfriend jeans and some white sneakers for a laid-back but put-together outfit. 
Flannels
When I think of fall fashion, flannels come to mind first. They're a perfect fall piece that, when layered, can make a really fashionable and cozy outfit. Not to mention, the men's section at a thrift store has tons of thick, oversized flannels that will keep you warm during all of your fall activities. I've found all of mine for under $10. And, if you want to step your flannel game up a notch this year, bleach dye these too. You can wear this with a pair of leggings to keep it casual or spice it up with some biker shorts on a warmer day with white tennis sneakers.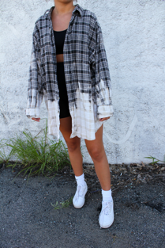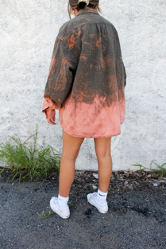 As a seasoned thrifter, my one piece of advice when thrifting is to go in with a purpose. Think about a few things you want to look for and keep your eyes peeled. Think about how pieces would look cropped, cut, or with some bleach or tie-dye. Be creative and have fun with it! Thrifting gives you one-of-a-kind pieces and can really make your wardrobe stand out from the rest.
Email Madison at [email protected].