How the 2020 NBA season turned athletes into activists
Player shifted focus away from the coveted Larry O'Brien trophy to social equity for all
With the swagger and pride of a royal family, Los Angeles Lakers fans rejoiced as their team claimed their 17th championship, this past Monday, with the assistance of the immortal Lebron James. The tumultuous 2020 NBA season, the longest season in league history, served a greater purpose that no player would've ever imagined at its start in Fall 2019.
The midseason hiatus caused by the coronavirus pandemic left players, league officials and executives complacent. Without the constant grind and distraction of basketball, players were given the opportunity to devote their attention to the inequalities and disparities occurring in their communities. The reignition of the Black Lives Matter movement influenced players and coaches to use their attention-grabbing platform for change, bringing awareness to most social inequities plaguing America. Players turned into activists, supporting the movement both with financial contributions and presence at protests. In particular, Boston Celtic star Jaylen Brown was even arrested while protesting for equality.
Players soon shifted focus away from the coveted Larry O'Brien trophy, to a much more meaningful accomplishment: social equity for all. As the league made preparations for the late summer resumption of the season, members of the National Basketball Players Association assured players that they'll be able to advocate for social justice while in the confines of the Disney-ran Orlando NBA Bubble. Internal contention soon found its way into the discussion of the resumption of the regular season. Certain players argued against resuming the season, stating their games would take attention away from the social issues brought to the foreground of American discussion. Brooklyn Nets star Kyrie Irving issued his concerns discussions with prominent players:
"I don't support going into Orlando. I'm not with the systematic racism and the bulls—-. Something smells a little fishy."
The NBA player base was splintered on the decision, over a dozen players, including Irving, ended up opting out of the NBA bubble for social and health concerns. Plans for the NBA's resumption were ago. After a four-month hiatus, the NBA was back with a socially aware agenda. "Black Lives Matter" now took up significant space in the court's design; players sported the names of victims of police violence and social injustice. Players adopted ex-NFL Quarterback, Colin Kaepernick's kneeling during the national anthem and social messages dominated their respected networks ad-space. Social awareness discussions even found its way into post-game player interviews, with players divulging their thoughts on inequality rather than the game they played. Social messaging was now an integral part of the NBA and while these attempts to advocate for the underprivileged may seem performative to some, it'll be hard to dispute that this exponential amount of social messaging educated fans who are otherwise detached and unaware of these issues. 
Player conflict struck again during the first round of the playoffs. After witnessing the disturbing video of James Blake being shot seven times behind his back by a Kenosha, Wisconsin police officer while Blake's children observed. Frustrated by the cyclical trend of black people being marginalized, harmed, and killed by police, all 13 NBA playoff-teams postponed their games that week in solidarity. The NBA's protest initiated a chain reaction that reached all avenues of the professional sports world. WNBA, MLB, MLS, and the NHL soon followed the NBA's lead in postponing games. The professional sports boycotts in response to the Blake shooting foreshadowed a feasible reality where professional American sports entertainment would be held hostage until demands for social and systemic reform were met.
NBA players soon questioned whether or not it was worth it to come back? NBA superstars Lebron James and Kawhi Leonard were open to the idea of canceling the season outright, even though they had the highest probability of winning the finals. The stars figured they'll be of more use lobbying and protesting outside the bubble than within. After a few conversations with 44th President Barack Obama and league executives, the players agreed to return-to-play with the caveat of establishing a Social Justice Coalition, "with representatives from players, coaches, and governors, that will be focused on a broad range of issues, including increasing access to voting, promoting civic engagement, and advocating for meaningful police and criminal justice reform,"  said within a joint NBA, NBPA statement.
Along with the formation of the SJC, the league agreed to develop voting booths: "In every city where the league franchise owns and controls the arena property, team governors will continue to work with local elections officials to convert the facility into a voting location for the 2020 general election to allow for a safe in-person voting option for communities vulnerable to COVID."
They also agreed to "work with the players and our network partners to create and include advertising spots in each NBA playoff game dedicated to promoting greater civic engagement in national and local elections and raising awareness around voter access and opportunity." Since the formation of the SJC multiple NBA organizations has brought change to their respected communities:
Miami Heat
"In partnership with the Miami Police Department and Dedication to Community (D2C), we will facilitate the specialized training of all of Miami's sworn police officers with the goals of positively impacting interactions between law enforcement and our diverse, local community—particularly the Black community. In September, the partnership began with a pilot program, training a subset of Miami PD officers with the longer-term goal of providing training to all of the sworn officers of the Miami PD force, with the eventual goal of training the remaining civilian employees as well," said the Miami Heat in a press release.
The Miami Heat has also announced that the proceeds of their Black Live Matter embroidered apparel will go to multiple social justice organizations.
Boston Celtics
The Celtics have launched a 25 million-dollar ten-year initiative titled: Boston Celtics United for Social Justice, created to address systemic problems plaguing the black community. The initiative vowed to address: "Equity in Education, Economic Opportunity and Empowerment, Equity in Healthcare, Breaking Down Barriers and Building Bridges access communities, as well as Voting and Civic Engagement"
Minnesota Timberwolves and Lynx
The Timberwolves teamed up with their WNBA counterpart to promote social awareness in a content series titled, "Voices." Developed with the goal to "bring awareness to these difficult topics that are impacting communities across the world and focus on how we can all make positive changes by being present and making space for these discussions to be had in a productive and educational way," as stated in a Minnesota Timberwolves press release.
Episode one of Voices is available now on Youtube: https://youtu.be/fSmMCevqYHc
Dallas Mavericks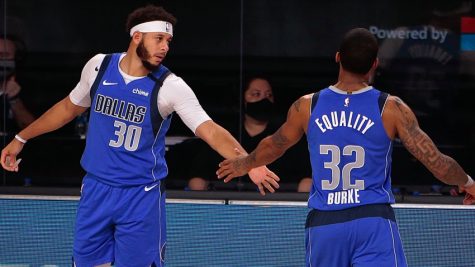 The Mavericks has launched a new initiative, "Mavs Take ACTION," with the purpose of extending democratic liberties and opportunities across Dallas and the surrounding area. The team released a statement: "The Dallas Mavericks pledge to listen, learn and unite our DFW communities to address racial inequities and disparities, promote social justice, and drive sustainable change. We pledge a minimum $5M investment and 10,000 employee volunteer hours over the next 3 years."
Golden State Warriors:
The Warriors have launched a multifaceted campaign consisting of "Four Pillars of Action": Feet, Wallet, Voice and Heart.
"Feet" plans on incorporating team members in protests. As written in a press release: "The Warriors are committing to supporting civic engagement endeavors, such as census participation, voter education and supporting peaceful demonstrations."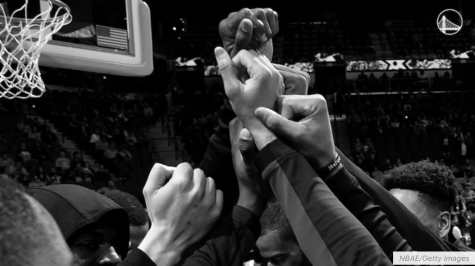 "Voice" vows to advocate for social justice to the abundant amount of followers on players, coaches, and team executives' social media platforms. They've already enacted this initiative back in February with Beyond 28: "A year-round commitment to amplify and celebrate Black history, culture and voices on team channels and platforms," written in a team press release.
"Wallet" will further the Warriors community donations, as well as donating: "$10 Million over 10 years to help establish the first-ever NBA Foundation dedicated to creating greater economic empowerment in the Black community," written in a team press release.
"Heart" involves: "actively developing platforms that create a diverse, equitable and inclusive culture. For example, the Warriors will continue to expand recruiting policies and development opportunities with the goal of increasing diverse representation at every level of the organization," written in a team press release.
Los Angeles Lakers and Clippers:
The Lakers and Clippers teams formed "The Alliance" with the nine other professional sports organizations in the Los Angeles area to: "Actively developing platforms that create a diverse, equitable and inclusive culture. For example, the Warriors will continue to expand recruiting policies and development opportunities with the goal of increasing diverse representation at every level of the organization," wrote an Alliance spokesperson.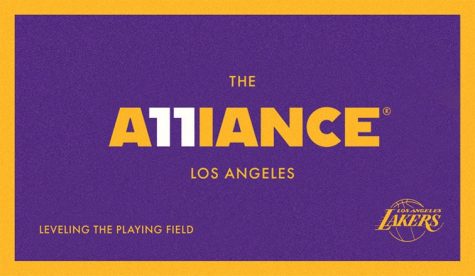 The Alliance is already establishing initiatives with local community organizers, in order to make the most impact during their five-year commitment.
NBA Commissioner, Adam Silver along with other players and officials have claimed this season a success in their two main goals: Protecting players as they finish the remainder of the 2020 season and promote social awareness to a level no other professional sport has done before.Silver plans on transitioning the agenda in some form to the 2021 season.
Email Tristan at [email protected] or follow him on Twitter @TristanKhalid.