Five witch-owned businesses for your Halloween shopping needs
Spooky online shops that are worth haunting
Halloween, arguably the best holiday, arrives in just under a week, making now the perfect time to place an online order for some spooky décor and hauntingly good occult products. 
Whether you're celebrating Samhain with rituals or simply decorating your dorm to get in spirit (pun intended), here's a list of five independent, witch-owned businesses to support. 
HausWitch
View this post on Instagram
Housed right in Salem, Massachusetts, HausWitch combines magic with quality interior design, giving witches and Halloween fanatics a wide assortment of candles, crystals, pillows, potions, books and more. Erica Feldmann, the "Head Witch in Charge," founded HausWitch after making her signature spell kits for those wanting to dabble in magic but don't know where to start. HausWitch offers an aesthetically pleasing assortment of minimalist, witchy goods from local creators and makers while allowing shoppers to transform their everyday space into one of healing and happiness. 
Check out the Hex the Patriarchy Print for $23, of which 30% of proceeds are donated to the domestic violence shelter Healing Abuse Working for Change (HAWC) of Northshore, or purchase a $10 "Every Queer is Magic" Suncatcher sticker for your laptop. HausWitch also has an assortment of spiritual books such as "Do Better: Spiritual Activism for Fighting and Healing from White Supremacy" by Rachel Ricketts or "Witch Ethics" by Rachel Howe.
Witch Baby Soap
View this post on Instagram
Witch Baby Soap crafts occult bath and body products that are to die for. Established in 2013, founder Chelsea Selby makes beauty products that manage to be both luxurious and creepy. Most noted for her coffin-shaped bath bombs, Selby has a range of products to meet your witch bathing needs. Try the $7 New Moon Bath Bomb to welcome in the dark moon or the $10 Psychic Bath Bomb to open your third eye while sitting in a beautiful blue, glittering bath (bonus, this bath bomb comes with an amethyst crystal inside of it to hone clairvoyance).
If you're in a dorm and left with no bathtub, Witch Baby offers lovely, scented soaps infused with magic. Try the Gossip Stopper Soap for $6.50 to help stop slander while lathering up with scents of clove and vanilla. The Dragon's Blood Soap can aid with enhancing personal power or spell work, making it a perfect bar of soap for Halloween night. Body butters, scrubs and face soaps are also available, along with a few magical tools such as a teapot cauldron and a brass bell to clear out stale energy.
The Modern Mystic Shop
The Modern Mystic Shop based in Atlanta, Georgia offers the metaphysical basics you need to prepare for the season, such as ethically sourced crystals, essential oils and even virtual Tarot readings. The shop focuses on carrying intentionally made, small-batch products from "family businesses, women and other underrepresented groups," while simultaneously carrying their own line of candles, sprays and oils. Their products are so well-loved, even celebrities Alicia Keys and Emma Roberts have given the shop positive testimonials.
Try Alicia Keys' favorite Modern Mystic essential oil, the Third Eye Chakra Roll On for $17, blend in the middle of your forehead and allow your third eye to awaken, heightening your intuition. Grab a selenite palm stone for $10 to provide clarity and cleansing (but be sure to keep selenite away from liquid, otherwise it will dissolve!), or try the $16 Clearing Aromatherapy Spray to cut out any negative energy lingering in your dorm room.
Seagrape Apothecary
View this post on Instagram
This beautiful little apothecary from Portland, Oregon coined the motto "turn self-love into a love affair," and with the abundance of oils, herbs, gems, perfumes, soaps and jewelry, it's hard to not get into a "treat yo self" mindset. Founder Maria Vashakidze helps customers find their own personal power through radical self-love, offering an array of products to help you get there.
Decorate an altar for Halloween or Samhain with the lovely Eclipse Signature Printed Altar Cloth for $12 and embrace the changing seasons by evoking the sacred snake with the shop's Small Ceramic Snakes for $14. Have a séance and connect with your ancestors with Sister Spinster's Ghosts essence formula for $22 (but maybe also grab a $4 Black Tourmaline tumbled crystal for protection if you plan on conjuring spirits when the veil is at its thinnest).
Haus of Hoodoo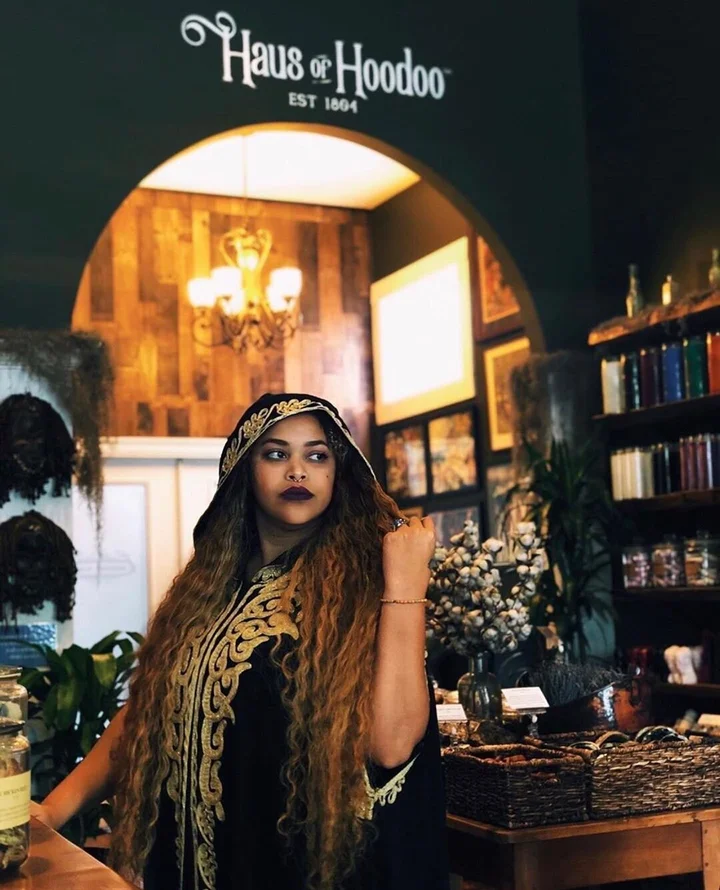 Finally, the ultimate online shop to purchase magically potent candles, oils, and apothecary products can be found at the incredible Haus of Hoodoo. Owner and Vodou Priestess Jessyka Winston makes some of the best, magically charged candles and oils to help with all your spiritual needs. It's worth checking out her Instagram page to read the countless testimonials on her powerful products. Not to be taken lightly, her products should be purchased thoughtfully and treated with the utmost respect; Haus of Hoodoo sends directions along with every purchase on using the products appropriately. 
Prepare for exams with her Student Fixed Candle for $29 to assist with focus, clarity, and information retention. Beautifully designed Tarot Cards are also available on her site, such as the African American Tarot deck or the Pre-Raphaelite Tarot, both listed for $23.95 each. If you want to enhance your Halloween or Samhain experience, try The Halloween Oracle deck for $22.95. 
 Email Chelsea Staub at [email protected]