Student life and social media stardom: It's a balance for UMass student Nickole Kugel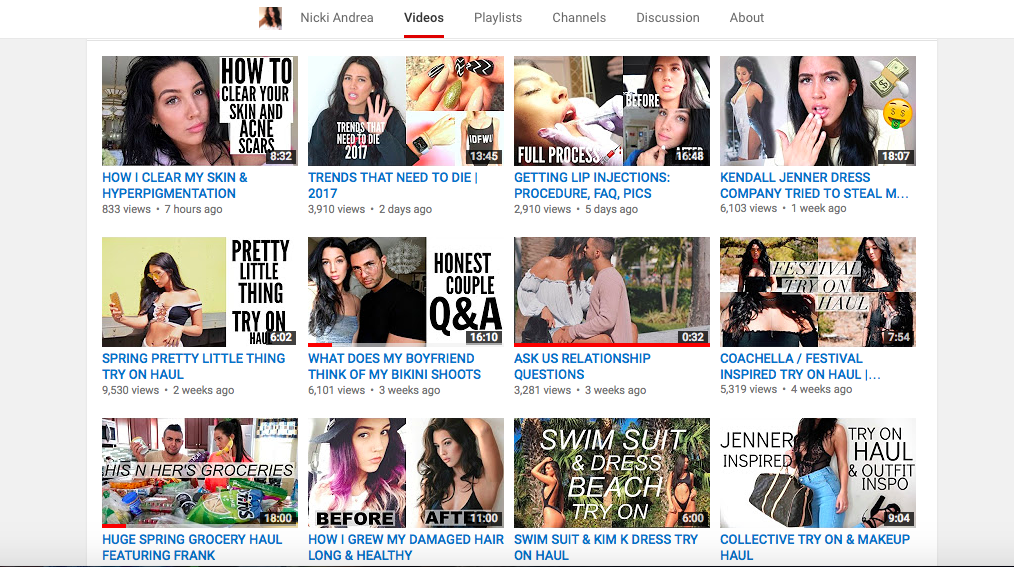 Nickole Kugel, a 21-year-old journalism major, is not the typical University of Massachusetts senior. While balancing class, work and a social life, Kugel has managed to capture an audience of more than 85,000 viewers for her weekly beauty and lifestyle videos.
Over the past year and a half, she has doubled her subscribers and has reached 11,000 followers on Instagram. She has come a long way from starting out making videos on her old Dell laptop and webcam in high school to now gaining an average of a hundred subscribers per day.
Her channel falls into the "lifestyle" category with a wide range of topics including beauty, fitness, food, fashion, "story time" and even important issues she feels she should talk to viewers about.
When Kugel first started making videos in high school, she titled her channel "Beauty by Nicki," but later changed the name to "Nicki Andrea" after deciding she wanted to feature more than just makeup tutorials or beauty tips.
"I like to have a very eclectic mix of videos on my channel," she said.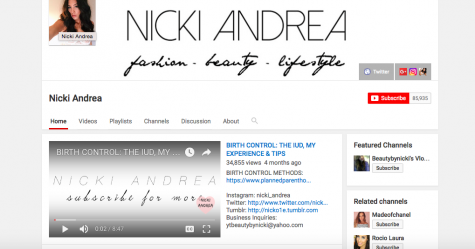 Before Kugel thought about making videos herself, she religiously watched the small group of beauty vloggers who existed at the time. She grew attached to them because of their relatable personalities. These women inspired her to make her own videos for fun and post them to her own YouTube channel.
"When I was in high school I watched YouTube videos essentially as my television," Kugel said.
Kugel gained a large YouTube following in high school but decided to take a break when she first came to UMass.
"I put YouTube completely on the back burner … I was really consumed with living the college experience."
When she settled in as a student, Kugel says her boyfriend Frank encouraged her to start making videos again. He bought her a new camera.
Kugel said the key to building a following on social media is to post multiple videos each week and pay attention to the types of videos viewers want to see.
With the size of her audience now, Kugel works hard to balance her life as a student and a public figure.
"It's like having schoolwork. When I write down my homework in my agenda, I write down all the videos I have to film, all the videos I have to edit, the emails I have to respond to, the companies I need to contact, things like that. I need to kind of be my own boss and be consistent with it," Kugel said.
While Kugel is always working on new videos and improving her channel, she explained she believes the aspect of her vlog that helps her stand out of the crowd is her willingness to discuss controversial topics.
"I opened up about an eating disorder that I had freshman year, and that video got almost 30,000 views. It took me three years to make it … It is so rewarding when people comment that this really resonated with [them], that's what makes it worth it. I'm glad that I can be a voice out there for people to know that they're not alone," Kugel said.
In line with this open, honest attitude, Kugel also features videos about sexual health, body positivity and self-love, which has prompted many of her younger viewers to tell her she is like the "big sister they never had." She recalled the several times she's been recognized in public — once while shopping in New York City, and another time by two young girls at the mall near her home.
Kugel receive an outpouring of support from her viewers, and she says her friends are huge fans of her channel, whether they are volunteering ideas for her videos, watching them or giving her feedback. In the comments section of her videos, she often engages with her viewers and thanks them for their loyalty and positivity. This helps her subscribers feel a strong personal connection.
On her videos that are more popular, such as one with almost a million views, Kugel finds that she gets more negative comments from people who don't watch her channel and just stumble across her video. She said she does not let trolls bother her because she knows they aren't personal. It merely comes with the territory, she says.
With her growing presence on YouTube and Instagram, she explained that there is some pressure to always be camera-ready and on her A-game.
"There is pressure, but at the same time you are only human and you can only do so much. In a lot of videos, I don't wear makeup," Kugel said. "I try to be as real as I can. It can be discouraging if you don't like the way you look in some of the footage, but you can get upset about it or you can just keep on pushing and own it."
Kugel will graduate from the UMass Journalism Department this week, and she said she is unsure of the career she wishes to pursue. She says she would love to remain in the fashion and lifestyle industries and could see herself continuing to work with social media.
"YouTube is a source of income for me, but it is definitely not my full career," she said. " I think it is something that can help open doors for me. It's a great platform to network and explore my talents creatively." 
Email Julie at [email protected] or follow her on Twitter @juliemh126.