Naheem Sterlin is an artist with a goal, make music that everyone can enjoy
As Young Judo, Sterlin becomes a swordsman, producing ear slicing sounds
"I'm not trying so much to put out a specific kind of music, but something that you can listen to and like, because it pleases the ear."
Naheem Sterlin, otherwise known as Young Judo, is a 20-year-old student at the University of Massachusetts Amherst. The local artist has been steady at work since 2018, releasing a string of singles with his most recent entry, the acoustic-inspired slapper, "Cappin."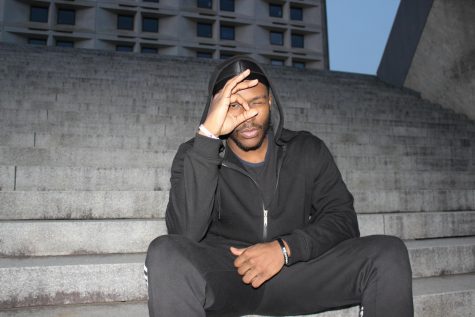 Born and raised in Mattapan Massachusetts, a 20-minute drive from Boston, he took martial arts lessons which is where he derives the moniker Young Judo. "I used to take Karate back in the day so to me, [Young Judo] means young warrior."
Sterlin, a junior psychology major, aspires to be an optometrist. Like his future profession, he's insightful about people. Sterlin looks into the experience that envelops music and shapes it in tune with the listener's perception. With the expansion lent by steaming platforms, audiences find themselves becoming increasingly particular about tastes. With his education through psychology, there's a foresight behind his tracks that always considers the listener's mindset.
As an artist, Naheem strives to release music that spans the gap between preferences. "You can't explain how people feel with music, because everyone is interpreting differently." And like some say, the ears are the eyes of the side of the head, meaning Sterlin comes equipped and precise in his consultation. "I try to make music that everyone can listen to. Something you can play around your friends and bump, chill vibes."
Having transferred from Massasoit College last semester, Sterling acknowledged his new environment while we spoke, "I've tried to network more at Umass. Link up with other artists while I'm here. Just push my music with people who support me. I feel like that's what it's mostly about, just having people there to share your stuff. " Recently he has been in collaboration with Tone, another UMass artist.
After listening to tracks and then sitting down with him, it became apparent that music was a passion that Sterlin approached with dedication and appreciation. He's up each night listening to instrumentals and composing verses. Among weekly classes and a part-time job, he blocks time to get in the studio, applying preparation to practice. From an early age, he found a proclivity for music.
"I started rapping when I was 14, 15, but there are differences when making music. Anybody can rap, but making music is something that people can bump all the time, something that's catchy," Sterlin said. From past playlists consisting of Lil Wayne, Jay-Z, Eminem and Kanye, Sterlin continues the pursuit of developing his personal taste and sound. "I'd say I started making music maybe two, three years ago. And then I started actually putting stuff out last year."
Like any artist in the goal of perfection, he's developed an approach that considers all perspectives in the direction of growth. "One thing I think I take really well is constructive criticism. If somebody feels some type of way about the things I'm doing, especially my boys, I love it when they keep it honest with me so I know that when I do make a hit, they'll be like 'yo this is fire.'"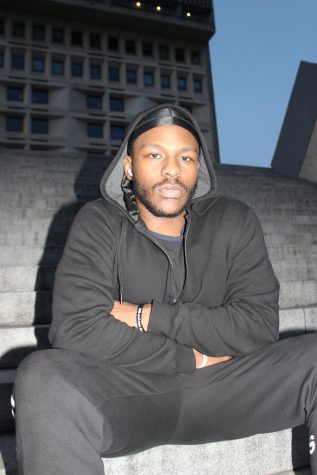 As individual artists come together to compile a larger community, Sterlin recognizes the significance of collaboration. "I'm willing to work with anybody. At the end of the day, it's music, and everyone brings something different whether it be taste or an ear. You just want to try to get a good sound out of it"
For Sterlin a sound's substance is gauged through its elicit reaction. "Music is like an outlet and a feeling. There's no better feeling than working on a song, especially if it's your own and getting those chills when listening to it. It's like "alright, I know I did something here." It's this combination of persona and craft that creates a proclivity in Sterlin's music, one that projects a compelling sound. Like a sonic samurai, Young Judo shatters 808s, kicks hi-hats and distributes slicing bars to the dome. From the third floor in Dubois, with producer Ian Andinda, Judo applies his nightly writings to the booth; creating a non-tangible product that delivers physical side effects of induced head bobbing. "I'm always listening to beats, trying to get a vibe that I can go off of and make a song."
Artists like Young Judo remind us why local music scenes are significant. They're essentially the hotbed for all that's next to come. Among the developing record deals and projects emerging out of places like Los Angeles, Atlanta and Chicago, these artists provide the local angle in entertainment. At UMass, Sterlin strives towards honing his sound and technique. He finds his drive whenever his music pleases the ear. This entails managing an academic career, as well as a musical one; producing a schedule for Sterlin that balances office hours and media lab studio sessions.
Since transferring to UMass, Sterlin's made an effort to expand his reach. "I mean, I'm not crazy out there, but I put myself more out there than I had last semester." And so far, it's going as planned, "There was a day where Snap was flooded with people just reposting my track. And of course, that's something I enjoy because I've made something that people mess with."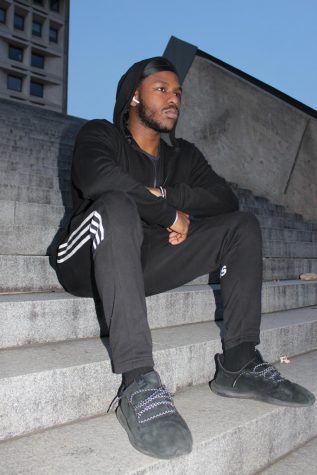 When he's not writing, recording, or listening to beats, Sterlin takes to basketball. "I don't hoop often, but when I'm there I'll give you buckets, you can count on that." And if Sterlin's rec stats are anything like his track record, it's a shut-out. His approach to music is a reflection of the exchange that occurs within the medium. He possesses the talent of channeling his ever-changing life as a college student into a sound that's familiar and ear-catching, yet unique in Sterlin's presentation of his perspective.
"I'd like to take my music as far as it can take me. I feel like I'm just trying to put out good content. Just to catch people's ears and let them know that good content isn't always coming from the mainstream." As for what's to come next, Sterlin will stay on the content grind as he plans to release an EP in the coming months.
Young Judo's music can be found here;
Email Shane at [email protected] or follow him on Twitter @shaneguill