TASC welcomes a new legacy
Current members seek to advance the club's culture.
When asked what "TASC" stands for, many members – new and old – stood in silence and gave a nervous laugh. 
The club began as a small group of 10 people in spring of 2016. Originally, the acronym stood for "The Asian Student Center for Choreography," and the mission was to practice Asian performing arts. In an effort to be more inclusive, TASC is no longer an acronym — the name just stuck.
When it was founded, the club's first performing act was the Chinese yo-yo – the art of balancing an hourglass-shaped cup on a string, all while executing fascinating tricks and techniques. Later, the Chinese dragon dance was introduced, where a long line of people run while holding a part of the dragon costume.
That was the old TASC. Now, older members seek to build a more productive, welcoming and enjoyable environment for newcomers. 
Co-founder Hubert Lin, a senior, sought to "continue [doing] yo-yo with a group of friends" when he entered college. Those who launched the club were already familiar with Chinese yo-yo's, and weren't as accepting of beginners and amateurs.
"It wasn't sustainable," Lin said with sincerity. "It was all performance-based, no education. It wasn't conducive for the club to grow."
The Chinese yo-yo is the club's most popular act, but all are invited to contribute new ideas for acts. Lin created the club in hopes of "giving a platform for opportunities." If a newcomer has an idea, veteran members will help bring it to the stage. Everyone has a voice.
While watching fellow members practice for their audition tape, sophomore Jerry Chen recalled joining TASC last year.
"It was intimidating at first. There was a large gap between the freshmen and the older members; we weren't familiar with each other. Bryan and Ronald T. [a senior member of TASC], and Hubert were the teachers," Chen said.
"At first, there was a serious atmosphere, but by the second semester, the intimidation disappeared, and it was comfortable to be around everyone. It's a fun group to hang out with," he added.
Bryan Tam, a senior, describes his experience first joining the club his freshman year. At the beginning, practices tended to be more skill-based. Now, it's different. 
"This year's practice is not as pressuring – the practice now focuses on the social aspect and all the members make an effort to be interactive with one another."
"The name is ever-changing," added Tam. "We're trying to make it known that we are [inclusive]."
Indeed, the club continues to grow. Newcomers shared various reasons for joining TASC.
Shalen Wilkinson, a transfer student from a small town in Kansas, joined TASC in the hopes of "meeting a diverse amount of people."
Freshman Amanda McCombs joined "in search of finding a connection with my Chinese heritage."
And Rithany Kheam — who joined last year and helps manage social media for the club — was able to "find comfort in having a friend group that understands each other and their need to be introverted at times."
Being as relaxed as it is, the group does not have an official e-board. But Kira Porter, a sophomore who helps instruct beginners and manage social media, "foresees being the next leader for TASC."
"It's growing fast. We're re-establishing the purpose of the group from not just focusing on performances, but also having some social interaction," Porter said.
"We want to lessen the pressure on people so that they want to return," she added.
According to Lin, it takes approximately "two months to develop the basic skills to perform for Chinese yo-yo."
In the past, one person was in charge of the choreography. However, Lin "wants everyone to have a chance," and formed a rotating system of choreographers.
TASC encourages students to join if they are curious about performing, or want to socialize. Lin aspires to "leave a legacy" when he graduates in the spring.
Email Shannon at [email protected].
About the Contributor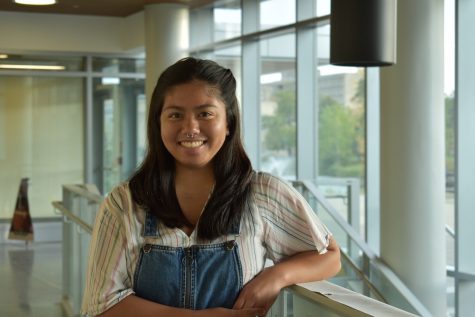 Shannon Macalingay, Lifestyle Editor
"If there's a book that you want to read, but it hasn't been written yet, then you must write it."
― Toni Morrison

Email Shannon at [email protected]